Photos by Becca Mathias
Zollie's puts a fresh face on an old place, much to the delight of New Castle residents and food lovers in Delaware.
From the rolling brick sidewalks to the 18th-century courthouse, Old New Castle's Colonial roots are on full display. The Dutch, Swedes and English fought for it, and today, visitors tour the sites, attend festivals and stroll through Battery Park.
It's put dining high on the list of reasons to travel here.
Zollie's Jazz Cucina, which opened in 2021, has quietly gained loyal fans both in and outside the community. Together with several other eateries, it has turned New Castle into a dining destination.
Admittedly, New Castle hasn't lacked restaurants. The oldest, Jessop's Tavern, has served New Sweden meatloaf, shepherd's pie, and fish and chips since the 1990s. Others were fleeting. For instance, many establishments occupied the Arsenal and the David Finney Inn, and a good share played up the Colonial flair.
Newer establishments, however, aren't letting the historic location dictate the cuisine. For instance, Nora Lee's French Quarter Bistro mines New Orleans for its menu, while the eclectic Mercury Café and Teahouse focuses on vegan food, cocktails, espresso-based drinks and teas.
Meanwhile, Zollie's draws inspiration from Southern and Caribbean cuisine and throws in a healthy handful of live entertainment in addition to its zesty spices.
On the road to New Castle
Zollie's is named for Chef Marc-Antony Williams' grandmother, who cooked for his family in her North Carolina home. Her devotion to stuffing the children's bellies kindled his love for food. Although he entered the industry as a server at The Club Potpourri restaurant, he realized he was more comfortable in the Rehoboth restaurant's kitchen.
Today, Williams still considers The Club Potpourri owner John Orlando a mentor. "It was a place where people got so excited about the food that was about to come to the table," Williams noted in a March 2023 Facebook post. To pay homage to Orlando, Williams makes cioppino with the requisite dash of anchovies.
Williams honed his skills in Florida, where he was exposed to Caribbean cooking, before returning to Delaware to open a nightclub, Celebrations on Market, which later housed the first iteration of Zollie's Kitchen. In 2022, the South Market Street building was sold to make way for apartments.
Meanwhile, Williams and his partner, Suzette "Q" Singh, sought a new location for Zollie's, and the former Café New Castle was available. The brick building on New Castle's main street had also housed Mrs. Snyder's Market Café and the Velocipede Museum. (A velocipede is a human-powered land vehicle like a bicycle.)
"I checked out other locations, and none could compare—we were ready to move in with very little to do," Williams says. Zollie's Jazz Cucina had found a new home.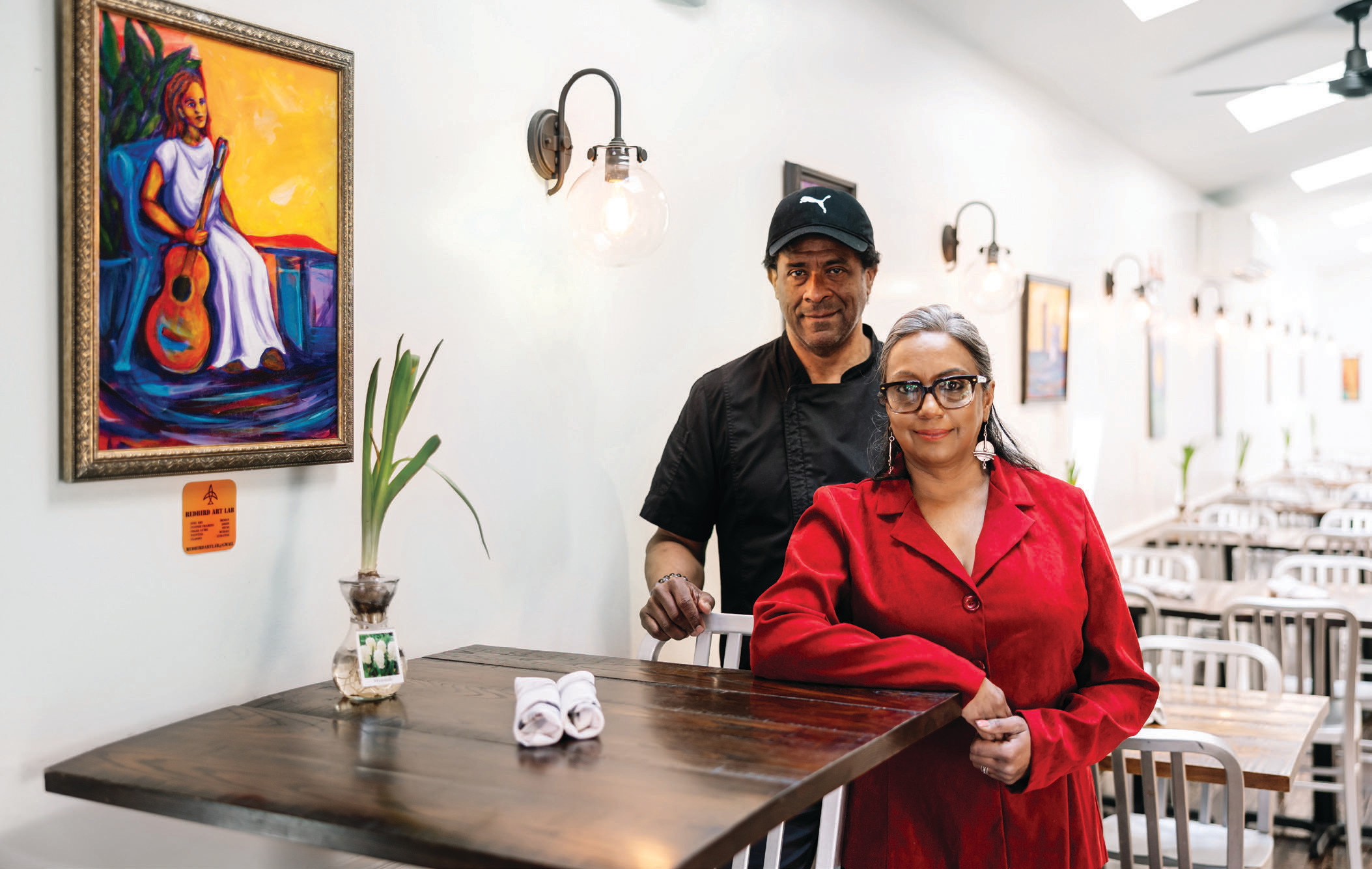 Creating a community
You can see why the partners were captivated by the property. Two angled storefront windows flank a recessed door, giving them room for leafy hanging plants and container gardens. An expansive back patio offers more space for plants, including herbs and greens.
Inside, the dining room has an open format—aside from exposed brick support walls—and is as airy and bright as a gallery space. Indeed, on a recent visit, large, textured paintings were on the walls for sale. "Delaware offers a wealth of talent in both music and art," says Williams, who changes the exhibit monthly.
The bar and space for live entertainment are near the front door, and on that night, a guitarist and vocalist performed standards. However, the music might include classical, folk and blues, plus a few surprises. "I've been known to share my Carolina scrub board skills," Williams says.
His primary form of harmonizing, however, happens in the kitchen.
Caribbean cuisine, Colonial setting
Williams blends Low Country cuisine, West Indian spices and South American influences.
"These dishes represent the flavors and foods of West Africa that were introduced to the Americas and Caribbean islands as a result of the slave trade."
A wild boar chop, for example, boasts jerk seasoning, and braised lamb in the Guyanese pepper pot gets a splash of cassareep, a liquid made from cassava. The brown fish stew features generously sized kingfish steak atop a mound of okra and tomatoes.
"These dishes represent the flavors and foods of West Africa that were introduced to the Americas and Caribbean islands as a result of the slave trade," Williams notes.
As you peruse the menu, drop any preconceived notions. For instance, Geechee chicken paella is a braised chicken breast over okra, pepper and tomatoes with Cajun sausage. It's not the saffron-scented, rice-heavy Valencian dish. Not surprisingly, you'll find shrimp and grits with jumbo prawns and sausage.
However, there might be some surprises, such as beef brisket confit with root vegetables and rosemary demi-glace. Expect some heat, although "nothing overpowering," Williams maintains. (Tip: Discuss any concerns with your server.)
Like the other newcomers, Zollie's has quickly become a hot spot for those who live in the community. The feeling is mutual. "We love this town," Williams says, "and we've found great success here."
Related: This Caribbean Painter Uses the First State as Artistic Inspiration