It's the fifth consecutive Super Bowl Halftime Show that Blackstone, 41, a highly coveted multi-instrumentalist, songwriter and musical director (MD) who lives in Middletown, was asked to run. Last September, he scored his first Emmy for Outstanding Music Direction for the 2022 halftime show, where iconic rappers Dr. Dre, Snoop Dogg, 50 Cent, Mary J. Blige, Eminem and Kendrick Lamar delivered an epic concert that raised goosebumps, particularly for those who came of age in the 1990s.
"I entitled my album Legacy for a reason: I didn't want to leave this Earth with a laptop full of ideas…with nothing my kids could tangibly hold on to."
The crowd's reaction brought relief for Blackstone—who, despite regularly MDing live acts for an impressive roster of A-list performers like Justin Timberlake, Janet Jackson, Alicia Keys, late-night TV hosts and others, as well as shaping major shows like the Grammy, Oscar and BET Awards—had been on edge about how to distill this particular set down to the standard 13 minutes.
"The first year it was just Justin—his 20 years of music in 13 minutes. The next year we had a double bill of J.Lo and Shakira—these strong, powerful Latina women who wanted what they wanted," Blackstone chuckles, emphasizing the first syllable of the word 'wanted' both times. "Now we had this catalog of incredible artists—who can each do a 2 1/2-hour set on their own—all together in that amount of time… and you want to fulfill everybody's favorite moments of each artist."
With Rihanna's return, the challenge is creating a set that reflects her diverse career and fan base—she's spanned genres from R&B and reggae to hip-hop and EDM—but she and Blackstone have worked together for years, and today, he's excited for the world to see what they've been creating.
By late December 2022, a digital billboard for the Grammys with Blackstone's image would shine down on L.A.'s renowned Sunset Boulevard. The message: He's made it to the final round of voting, having earned a nomination for Best Traditional R&B Performance for his song "'Round Midnight," featuring Philly artist Jazmine Sullivan. It's one of 14 tracks on Blackstone's debut album, Legacy (2022), which also features Queen Latifah, Mary Mary, Kirk Franklin, DJ Jazzy Jeff and others. (Also up for the category are Beyoncé, Babyface, Snoh Aalegra and Blige, and by the time you're reading this, you'll know who won.)

"Just to be nominated is surreal," Blackstone says, his palms together and fingertips pressed against his chin. "I've dreamt about that trophy since I was 7 years old." And then, with a laugh while lifting his prayer hands in the air: "Let's hope by the time this article comes out I'm holding it in my hand!
"The Emmy Award also meant a lot," he continues. "However, I was hired to do that job and I was always going to do the best work that I personally could. The award just validates that other people thought it was great work as well. … But this Grammy, it means something completely different. It's special to me because it was a thought in my head—these chords, these songs, these artists—coming together. This arrangement that I got nominated for, that recognition, it means so much more to me because it came from a very personal place.

"It was a baby of mine that I put out into the world, with sensitivity and caution and to inspire…and it seems like it has done that."
Some might say Blackstone's future in music was written in the stars—or his DNA. Born in Trenton, he was raised in a tight-knit family that put God and one another first. His grandfather Blackstone was a pastor and preacher, while his father played the organ for their church and his mother sang in the choir.
Not ones to conform to societal norms—"My father quit his day job to make a living as a one-man wedding band," he says—both parents encouraged the young Blackstone to follow his dreams in music and supported him with piano lessons.
Relatives tell Blackstone he had an ear for rhythm and was playing drums for his ministry by age 4, but he remembers playing by age 6. His musical influences would carry on well beyond Sunday services.
One of his earliest memories is of his dad taking him to a concert by a cappella gospel group Take 6. "It wasn't anything like listening to a cassette tape," he says. "Seeing how people react to live music, I saw how powerful it can be."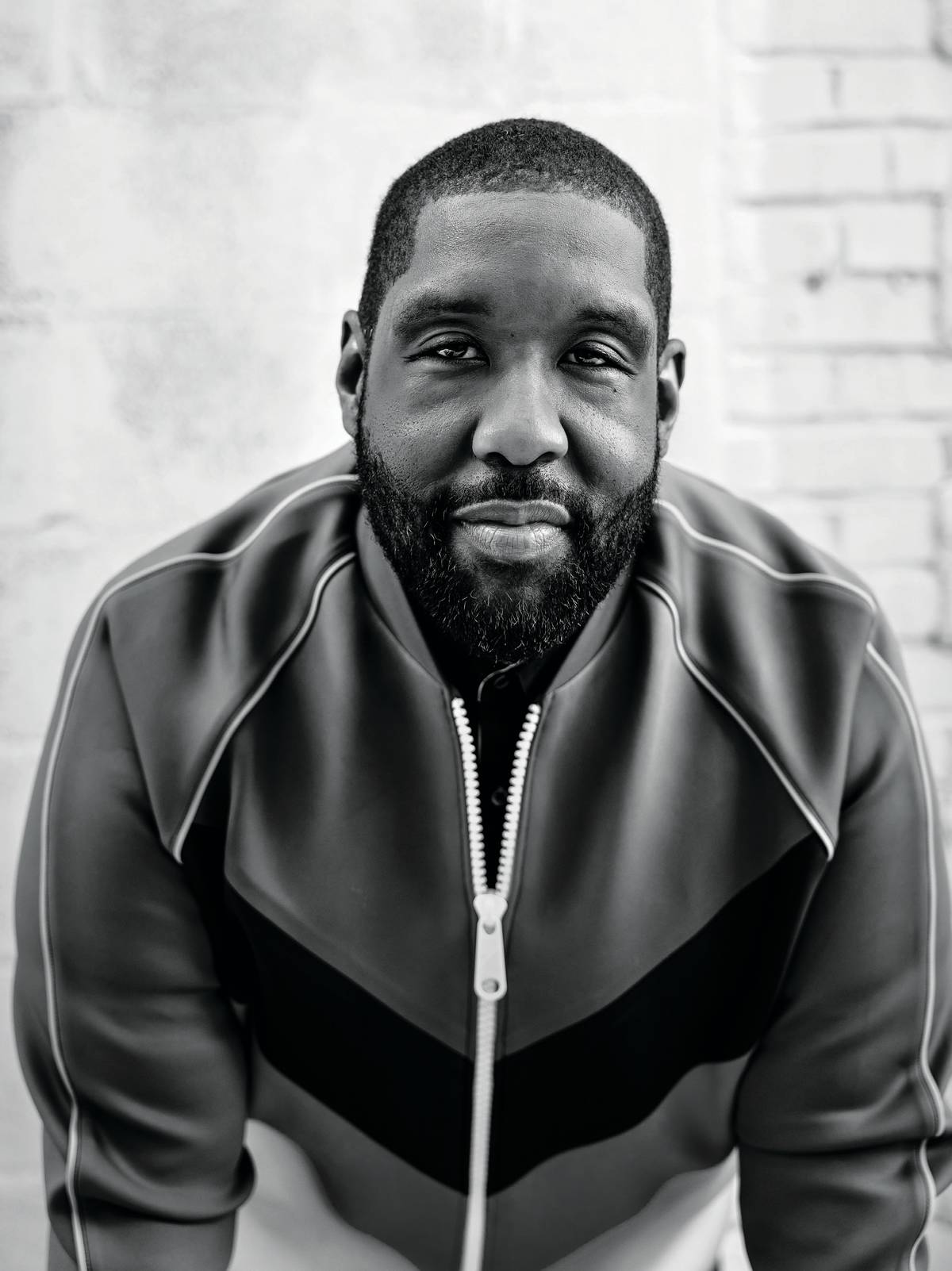 Then there was the year in the early '90s he received a boombox for Christmas. "It was my favorite gift of all time," he remembers. "I would put a cassette tape in and go to school and record the radio… then I would come home and listen to the tape. …Now that I think about that, I'm like, why didn't I just listen to the radio when I got home? I guess I didn't want to miss anything, like the [hot] new song or 10@10."
Growing up in an urban community, music was a heavy influence, Blackstone says. "A lot of young African American kids wanted to play drums," he recalls. "When we moved from Trenton to Willingboro [New Jersey] in second grade, my band teacher asked if I would be willing to try bass guitar because there was a void there for our school band.
"I was like, 'Hell, no,'" Blackstone says, drawing out the /l/ sound, with a deep laugh. "We used to walk to school, and I was like, 'I'm not walking to school with this big old guitar. I want to carry the drumsticks!"
Ultimately, he learned to play bass. He did so only because that's what the band needed at the time, but, he says, "It was one of the best decisions for my life that I ever made."
It was also foreshadowing of his career as an MD: "When I picked up the bass, it was something about the foundation that allowed me to dictate—by me playing low and holding notes—what the rest of the band does. And I liked that musical power."
Years later at Willingboro High School, known for its influential jazz program, Blackstone and his bandmates, who had been winning solo awards from an early age, would get scouted at competitions throughout the U.S. "We were like the Kobe Bryant or LeBron James of jazz," he jokes.
But it was a summer camp he attended at Philadelphia's University of the Arts where he befriended the dean and earned a scholarship.
In Philly, Blackstone became entrenched in the soul music scene. During his first years in school, he played in the theater and at restaurants and jazz clubs. "Moving to Philadelphia…this big city with skyscrapers and everybody hustling and grinding…I began to have that same mentality when it came to my music," he recalls, comparing the city's stark contrast to suburban Willingboro's "grass and neighbors."
Then he stumbled upon the Five Spot—a small venue with a weekly open-mic night run by Ahmir Thompson (a.k.a. Questlove) of hip-hop band The Roots.
The band's then-manager Richard Nichols had seen Blackstone play bass at the open-mics for different artists and liked his sound. "One night he approached me and asked me to come by the studio," he says. "I started going to the studio with The Roots during the day, played the Five Spot at night…and then lo and behold, Jay-Z called Questlove to do his 2003 Fade to Black farewell tour." Questlove asked Blackstone to play bass on the tour.
"I call him my 'Forever MD' for putting me in that position to win," Blackstone says. "It changed my life."
"God continues to blow my mind. I never would have imagined 20 years ago that music would take me all over the world…on stages with billions of people watching my work. That's not normal. That doesn't come from me."
A subsequent role in Jay-Z's Okayplayer Tour and a 2006 Block Party with Dave Chappelle would both become documentaries that really put Blackstone on the map.
"I mean, here I thought we were just doing this impromptu jam session," he says of the latter.
Blackstone remembers being excited to see Jay-Z and Beyoncé in the beginning. "But I got checked really fast by my peers, mentors…to know it was just a job," he says. That he was going to "go into that job, do my best and that would lead to other jobs" is a mentality he holds on to. "I'm super thankful for everything I do and have done, but I also know you're only as good as your last job."
Fortuitous meetings will only get you so far in a cutthroat industry like film or music, and Blackstone's solid work ethic is what turned these early gigs into a springboard for the career he has now. (If you ask him, though, he humbly mostly credits God, both for his talents and the opportunities that have allowed them to shine.)
"I always just cared a little more, and what I mean by that is I would stay longer or give a little extra. …If [someone] needed to hire a drummer or background singer, I would say, 'Hey, I know somebody.' Or if they needed an idea or special chord or melody, I would jump in with ideas," he recalls. "That turned into me booking rehearsals, and then running rehearsals, and then hiring the musicians. That's when the transition started."
As an MD, Blackstone brings the vision to live-music shows, overseeing everything from keys and tempos to choreography to making sure the music matches everything else, even details that have nothing to do with the music. "In a tour setting, everything is centered around the music, from costumes to lighting cues to video content," he says.
What excites the artist most about his work is the impact music has on people, something he realized early on at El Bethel Church. "Human interaction for me drives my creativity," Blackstone explains. "In a way, I approach the music from a fan's point of view. …What songs do I want to hear? What do I want to get out of this? That drives me because I'm like, 'They're gonna love this!'
"Honestly, that's one of the reasons why I feel like I've been so successful."
On the stage and away from it, Blackstone is first and foremost a family man. "Everything I do is for my family," he says of wife Kaisha and their two children, Adam Jr., 7, and Adia, 2.
"I entitled my album Legacy for a reason: I didn't want to leave this earth with a laptop full of ideas…with nothing my kids could tangibly hold on to."
Blackstone met his future wife—a backup singer, songwriter, businesswoman and force in her own right—in 2003 when both were on tour with Vivian Green. "Kaisha was singing and I was playing [bass], and I saw her cute little self…" he trails off, grinning, seemingly getting lost in the memory.
They developed a close friendship on the road before marrying two years later in "an intimate ceremony" on Daufuskie Island off the coast of South Carolina.
Wanting to plant roots somewhere between their hometowns, they settled on Middletown, which Blackstone promotes with the same enthusiasm as his music. "We love this town. …Oh yeah, we're happy recruiters," he says, noting that he's even convinced friends from New York and Connecticut to relocate here. "It's a great spot to raise a family, start a business."
In 2007, he and Kaisha founded music-staffing agency BASSic Black Entertainment, which essentially connects musicians and singers (roughly 700 to date) with feature artists.
"I had become sort of the go-to guy to help put shows and bands together, but I couldn't be everywhere at the same time," he says. "So Kaisha and I came up with this way of [pairing] musicians and singers with those artists who I personally couldn't be part of their run at the time. …But since my stamp of approval was on it, these artists were cool with it because they knew I wouldn't let anything but quality and excellence into their realm."
It also frees him up to spend more time at the Appoquinimink Library or Pop In's Artisan Pops or church with his family. He and Kaisha are regulars at Crystal's "soul food café," and "Thursday is always date night at the farmers market," he says.
Simplifying work-life balance, Blackstone shares the same music bond with Kaisha, with whom he's written songs, as well as Adam Jr.—also an instrumentalist, singer and now actor who's appeared in NBC's New Amsterdam—that he had with his own father. In December, the duo appeared together on The Tonight Show Starring Jimmy Fallon, where Blackstone performed "Biggest, Greatest Thing" with Mary Mary, as well as a song from his own album (on which Adam Jr. also appears).
"He's so talented," Blackstone says admiringly of his son. "I'm trying to open the door to give him opportunities. …It took me 25 years to realize these dreams were attainable. I hope he learns a lot sooner that he can do whatever he wants, and be whoever he wants to be, through the arts."
Traveling with Adam Jr. to New York City each month in support of those dreams, he's also got a few of his own. A domestic Legacy tour kicks off this month, as does NBC's That's My Jam, a variety show hosted by Fallon for which Blackstone is the MD.
"God continues to blow my mind," he says. "I never would have imagined 20 years ago that music would take me all over the world…on stages with billions of people watching my work. That's not normal. That doesn't come from me."
He's also working on new projects with Rihanna, Keys and Timberlake, as well as the public theater in NYC. "I'd love to work on Broadway," he says. "We can talk all about that next fall."

Related: The Top 50 Songs by Delaware Artists Since the Dawn of Rock 'n' Roll