Clients come to interior designers from all kinds of backgrounds, with varying levels of knowledge and experience about the process. But when some new clients approached Dewson Construction Co. about a home they wanted built on a lot they owned, the clients spoke the same language as their builder. That was because they were Delaware builders themselves, albeit in the commercial rather than the single-family space.
"It was a very unique opportunity to work with someone like that," says Dewson marketing director Meg Grieshaber. "They understood what quality was, not just with the aesthetic that you're looking at in terms of the details, but they also understood that what is behind the walls is every bit as important—the framing and the structure itself."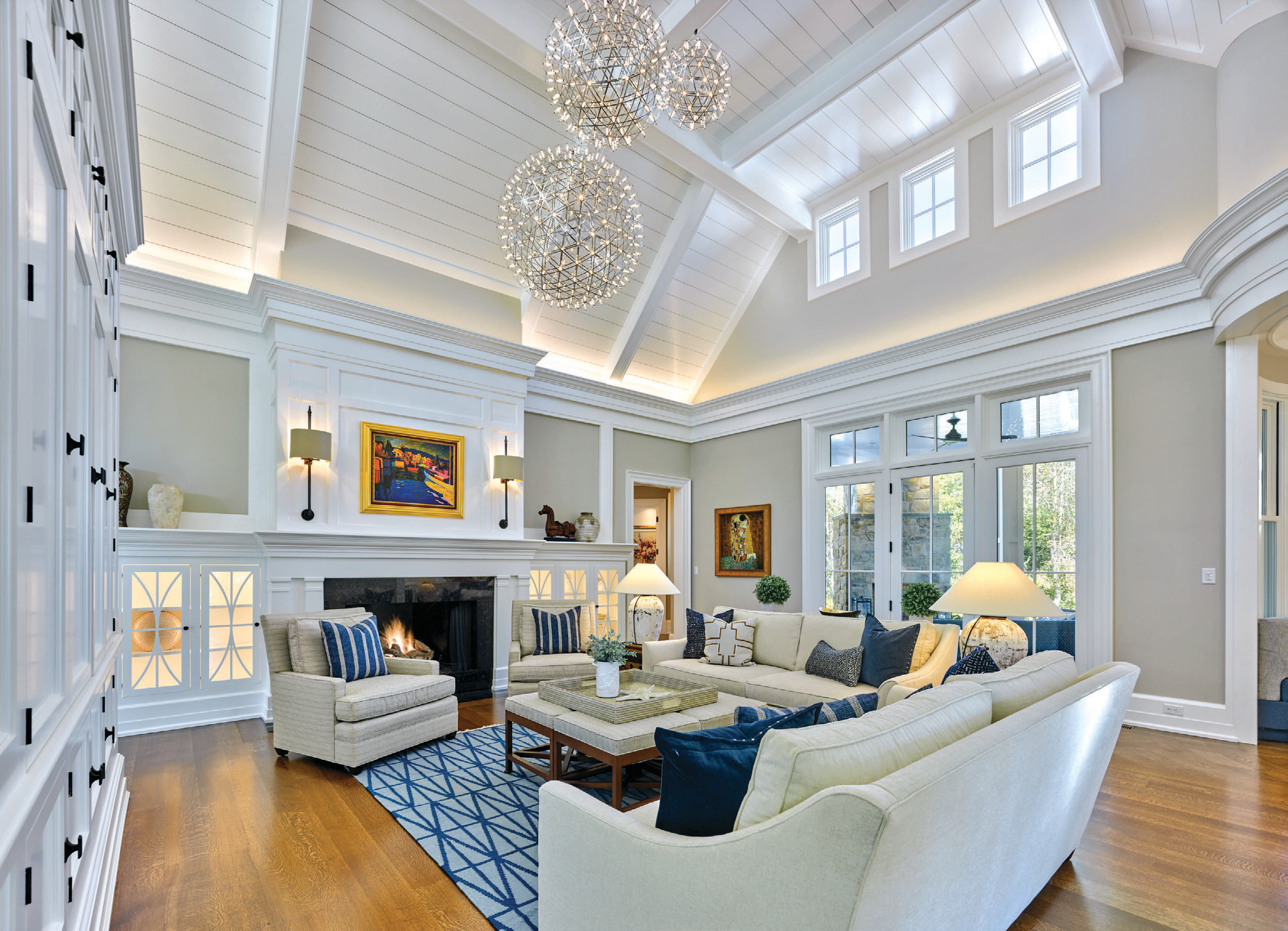 "It's art. The talent that it takes to accomplish [the millwork] is amazing."
—Meg Grieshaber
What resulted from the collaboration with architect Douglas Hertsenberg (a principal at Bernardon) was a classic shingle-style abode with a horseshoe footprint—a retreat that would serve as a family home big enough for visiting children and grandchildren. The total area of living space—the three-bedroom main house plus an ample three-bedroom guesthouse—is 5,496 square feet. The guesthouse, located opposite the main bedroom suite, enjoys a separate entrance. (Each house contains three bathrooms and a powder room.)
The exterior, clad in natural cedar siding with a gray stain (and durable asphalt shingles on the roof), is commanding. It boasts a massing effect, which is stimulating to the eye without being overly ornate.
The façade features multiple gables of different sizes and assertive dormers, including a single cunning eyebrow dormer—an echo of the eyebrow trim detail over the front door. The home rests on a decorative stone foundation. All these details nod to traditional coastal shingle style, "but then there's a little modern twist on the interiors in some of the elements," Grieshaber says.
The great room is a unique achievement of interior architecture, featuring a 20-foot-tall cathedral shiplapped ceiling punctuated with architectural beams, custom millwork throughout, a custom built-in and custom glass-front cabinets flanking the fireplace. Classic white paint highlights all the trim. Everything is purposeful, with the shiplap, the interior "windows" and the built-in—which is outfitted with its own row of clerestory windows—suggesting a treatment usually present on the façade of a building.
There's something that feels enduring about that choice, as if the home has been here for a while, collecting stories, and will continue to withstand the passage of time and the vagaries of the elements. The wood flooring occurs in straight planks beneath the seating area but segues into a herringbone pattern, as if to point guests into the dining and kitchen spaces beyond.
The owners chose lighting and neutral furnishings that allows the depth and density of the interior architecture to take center stage. One undeniable moment comes courtesy of the round ceiling above the breakfast table (mimicked in the circle of wood beneath the dining set), which features trim upon trim—so many layers. The custom millwork throughout was all executed by Dewson's in-house craftsmen. "It's art," Grieshaber says proudly. "The talent that it takes to accomplish that is amazing."
Related: This Rehoboth Home Transformation Embraces Coastal Vibes