Photos courtesy of Jade Nosara
A Delaware couple offers travelers pura vida and a chance to see the world through a new lens at Jade Nosara—a bespoke retreat in Costa Rica.
When Doug Ingerson first visited Nosara, a jungly village on Costa Rica's Nicoya Peninsula, the area was mostly known for yoga retreats and surf motels. That was 20 years ago and a decade before Ingerson, a native of upstate New York who resides in Delaware, decided to build a boutique hotel there. His vision: a remote sanctuary where people could escape noisy modern cultures and experience pura vida (the simple life). His business model was twofold: He and his partner Carroll Ivy would rent the space out for wellness retreats and host their own as well. They'd call it Jade Nosara, a nod to the revered green mineral that symbolizes power in this part of Central America.
Ingerson enlisted Donald Loria Prendas, an architect known for his impeccable designs with a sustainability focus. "I handed him a paper napkin with some of my ideas scribbled on it and just let him do his thing," recalls Ingerson, who credits the design autonomy he allowed for the international recognition Prendas later earned for the project.
Distinguishing the couple's property from the bigger beach resorts in this popular Blue Zone (one of five regions in the world where people tend to live longer) is the remoteness that comes with being 2.5 hours from the nearest airport. Its half-acre, just over 200 yards from the coast, is enveloped by a jungle of Panama trees and ancient mangroves. (The sands are a refuge for sea turtles who come here to breed during 10 lunar cycles of the year, Ingerson explains.) A five-minute walk in either direction grants beach access.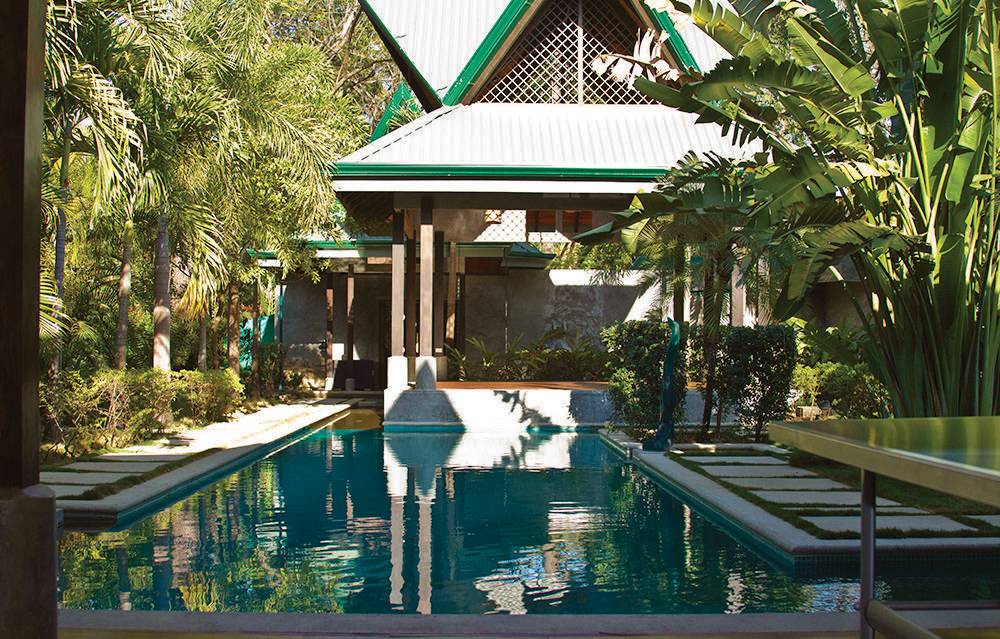 As you enter the main house through a gate, you're greeted by hummingbirds and the chatter of parakeets if you visit during the summer. The open-air concept features a community space with a pingpong table and large kitchen and dining areas, inviting guests to gather together over nourishing home-cooked meals. Teak-wood flooring and Venetian block walls lend a midcentury-modern style, while resin sculptures made to look like jade remind you where you are. (Lest you forget, the whooping bark of howler monkeys at 4 a.m. will also remind you, Ivy notes.)
Straight ahead, a modern shelf pool and yoga pavilion are hugged by five freestanding bungalows, each named after their individual appeal, such as Aleg'ria, which translates to "joy" and evokes cheerfulness. Two more private suites, sleekly designed with such amenities as an outdoor shower and Murphy bed ("so you can look up at the stars," Ivy says) are tucked away. Bold, tropical gardens across the grounds form works of art, but especially eye-catching are a fat banana palm and flowering Guanacaste, a deeply rooted tree said to represent stability and growth.
It's fitting, as that's exactly what the retreat intends to inspire. To help guests draw the most benefit from their stays, "We like to design your experience," says Ingerson, who "plays concierge" and provides whatever foods your palate craves. (He often says the hotel is "family-run," referring to the handful of local staff who have come to feel like family.)
"Since the pandemic, more people come here to get a shift and break away from everything they know in the U.S."
—Carroll Ivy
For some, their custom experience might be a week of yoga, meditation, art therapy, sound baths and soulful cooking. For others, it may be intense adventure: surfing (both shallow swells and high peaks), mountain biking on diverse terrain, horseback riding on the beach, zip lining at 900 feet high, or driving quads into the mountains and around waterfalls. For many, it's some combination of the above, and for Ingerson and Ivy, who reside here part-time, it always includes tennis. The duo starts each day on red-clay courts overlooking the jungle. "You can't even believe where you are sometimes. …You kind of just pinch yourself," Ivy says.
That's why they also recently purchased a 46-acre farm nearby, boasting ocean and valley views, where they have plans to develop tennis and permaculture retreats of some kind.
When Jade opened, it appealed to millionaires who, like Ingerson, wanted a break from the busy corporate world. "Since the pandemic, more people come here to get a shift and break away from everything they know in the U.S.," Ivy says.
"This place [forces] you to stop, take a deep breath and see the world through a different lens. You can't leave the jungle the same as you came."