At first glance, 1305 N. Franklin St. in Wilmington is an unassuming spot partially obscured by mature trees. It's easy to walk past without sparing a second glance at the little sign that marks the property as historic, but if you continue down the hand-laid brick sidewalk, you'll find an oasis full of art, literature and history, run by an all-female group of artists.
Beyond the sidewalk sign is a sun-splashed courtyard hugged by a sweet English Tudor cottage in Georgian Revival style, built in 1883, and two adjoining structures built in 1900. Inside, skylights douse spacious rooms with natural light, and Dutch doors with wrought-iron locks and hinges add historic character.
Rounded bull's-eye windows punctuate the walls, and in the largest building, intricately carved pieces of a wooden Mediterranean chest have been incorporated into the rear walls. This feature lends a Romantic-era feel, as if one were inside a pirate ship. This detail makes a lot of sense, considering these are the studios of the late Howard Pyle, one of the most famous artists to emerge from the First State.
Dubbed the father of American illustration, Pyle focused heavily on painting climactic action scenes that captured the public's imagination. He is best known for his depictions of pirates, ships and mythological tales, such as the stories of King Arthur and Robin Hood. In fact, Pyle is credited with inventing the modern stereotype of the pirate aesthetic—the Pirates of the Caribbean franchise has Pyle to thank for their characters' colorful, swaggering appeal, along with many other classic films about piracy. Now, the studios on North Franklin Street are maintained by the Studio Group, an organization composed entirely of women.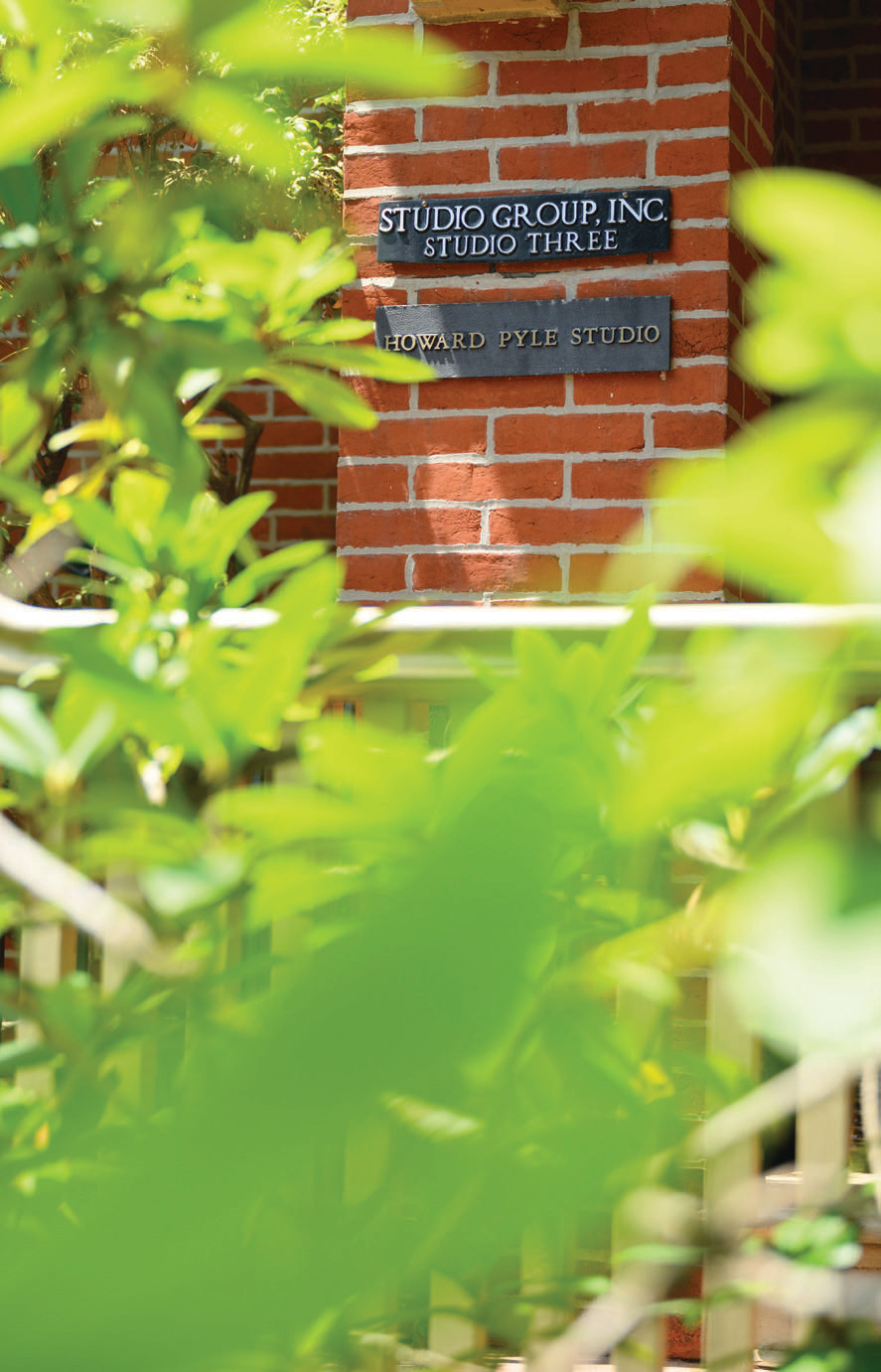 Born in Wilmington in 1853, Pyle was 8 years old when the Civil War began, according to Carolyn Anderson, a docent and longtime member of the Studio Group. He was descended from a long line of Quakers who'd been in America for more than 200 years before his birth, but his father was a leather worker who often fashioned harnesses and saddles for the war effort. They lived at the Goodstay Center on Pennsylvania Avenue, the Pyle family home until they fell on hard times and moved to other houses in the city, Anderson explains.
Pyle attended a Quaker school in Wilmington but didn't excel. Although he was bright and talented, he had issues with attention span and inconsistency, Anderson notes. His parents moved him to a private school, but the young Pyle's academic struggles persisted. His mother, Margaret Churchman Painter, encouraged him to pursue the arts, where his talents were considerable, but the young Pyle was torn between pursuing writing or art.
When he was 16, his parents sent him to Philadelphia to study art with F.A. Van der Wielen, a Dutch master who gave him a foundation in the classics, Anderson says. During this time, he continuously submitted drawings and stories to publishers in New York, most of which were rejected. Pyle visited Chincoteague Island in 1876, where he was inspired by the running ponies; he illustrated what he saw and sent it to Scribner's Monthly. Finally, his art was published, and one of the owners of the magazine, Roswell Smith, encouraged him to move to New York.
In Manhattan, Pyle was able to rub shoulders with other illustrators and artists, and even published a two-page spread in Harper's Weekly. It was the springboard for a long and successful career. Once he began landing regular commissions from publishing houses, he moved back to Wilmington and met singer Anne Poole, whom he married in 1881. The couple had seven children, according to the Pennsylvania Center for the Book.
Pyle taught at Drexel Institute from 1894 to 1900. At the turn of the century, he began offering a more in-depth education to a handful of his most talented art students, prompting him to build two more studios adjoining his own. A few of those students would become some of the most famous illustrators in the country. Among them were Violet Oakley, N.C. Wyeth, Elenore Abbott, Ethel Franklin Betts, Jessie Willcox Smith and Frank Schoonover, according to the National Museum of American Illustration. Many of these students adored him, Anderson points out, and even considered him a "second father." At what became known as his Brandywine School of art, the master never charged tuition.
Each artist contributes a portion of proceeds from her work toward ongoing restoration of the three studios—a role that also requires her manual labor—as well as supporting the arts community through educational scholarships and demonstrations. Shirley Rigby composes one of her many collages.
Pyle ushered in what is known as the Golden Age of Illustration. During that time, British illustrators were setting artistic trends, with American illustrators usually copying what their English counterparts were doing, according to Anderson. Pyle's goal was to create a distinctly American style of illustration. He was known for identifying the right moment in a text to illustrate, depicting the rising action of the scene without spoiling the ending for the readers. His artworks were vibrant and full of dynamism and movement, but they also contained an entrancing level of realism.
With the emergence of photography, though, the demand for illustration waned, Anderson explains. In an effort to adapt, Pyle traveled to Florence, Italy, in 1910 to learn all he could about mural painting. A year later, he developed a kidney infection (Bright's disease, now known as nephritis) and died in Italy at age 58. One of his most famous paintings, The Mermaid, was discovered at his easel in Wilmington, unfinished.
Pyle's students and friends in Delaware gathered in the winter of 1912, hoping to display and preserve his work. They formed the Wilmington Society of the Fine Arts, which later became the Delaware Art Museum. Many of Pyle's works, including The Mermaid and Marooned, and even some of his supplies, such as his easel and palette, are on permanent display, making up a part of a historic collection from some of the best illustrators in America. "[Pyle] painted and illustrated over 3,000 illustrations, and he wrote over 200 books—all between being a teenager and a young adult," Anderson says.
The North Franklin Street studios were purchased by a pair of his students, Clifford Ashley and Stanley Arthurs, who made changes including adding a large cross-section of a local buttonwood tree into the floorboards on the spot where Pyle used to stand and teach.
Studio One was sold to the Studio Group, an organization of passionate female painters, in 1938, and the rest of the studios were purchased for the Studio Group in 1950 by Ellen du Pont Wheelwright, who was a member, Anderson says.
Today, the Studio Group is dedicated to preserving Howard Pyle's legacy and maintaining his spaces, some of the oldest continuously running art studios in the country. The group consists of about 30 artists who create in a variety of mediums, including painting, drawing, glasswork and collage. Shirley Rigby serves as president and Betsy Greer is vice president, although titles shift regularly, Rigby says. "We're not the most important. …We all have jobs. Eventually everybody has to put on a hat and get to work."
The Studio Group contends with an increasingly demanding amount of restoration work, battling the age of the buildings while making and selling their own art to keep up the studios. "As the years go by, it gets more and more expensive to maintain," Greer points out. "But we limp along as best we can."
The women do most of the maintenance work on their own; they even laid the bricks in the courtyard. "This has been totally women-run, women-financed. …We are capable, even at this age," Greer adds. "I think it's a nice history. …Pyle also helped many women get their work published in New York."
For Anderson, that last fact is an important piece of this studio. "It's our legacy to keep going," she says.
New members are welcomed to the Studio Group by invitation only. "When we take a new member, they have to realize that 50% of what they're going to be doing is work on the studio," Greer says. "It's all part of maintaining the legacy of Howard Pyle and sharing with the community and maintaining this building so we're able to share it…and then we paint, too." Group members enjoy classes, critiques and creative sessions, as well as presentations from outside artists.
Great supporters of the arts, the group donates money to the University of Delaware for scholarships annually and sometimes invites art students to visit and learn in the studios. The Howard Pyle Studio is also a part of the monthly Wilmington Art Loop, which exhibits a new show created by its members and whose proceeds help fund restoration and preservation of the studios.
They are also a part of DoMore24 Delaware, a fundraising event that helps with the maintenance of the buildings. "It's our home away from home," Anderson says. "It's a lifetime experience, and we're all sort of dedicated that way. Everybody does above and beyond what's expected to keep it all going."
A life-size photo of Pyle looms large in one of the studios, towering above its occupants at 6 feet, 3 inches. The image showcases his delicate features, intelligent eyes and air of authority. His impact, too, was enormous; he and his loyal students changed the global artistic landscape forever.
"There was a history here that shouldn't disappear," Anderson asserts. "And unless it's brought back and talked about, it will disappear."
To learn more, visit howardpylestudio.org.
Related: The Emerging Curators Platform Supports Artistic Inclusivity in Delaware