Interviews by Ashley Breeding, Eileen Smith Dallabrida, Pam George, Laura Kurz, Meg Ryan, Maria Spano and A.K. White
Photographs by Maria DeForrest, Angie Gray, Deny Howeth and Becca Mathias
Nery Burgos
Owner, Breakfast at Blume

In 2019, Nery Burgos found herself at the Delaware Today Women in Business luncheon listening to the testimony of Alissa Morkides, the innovator and founder of Brew HaHa! "I said to myself, 'One day, that's going to be me," she says. The property management professional–turned–chef, known for her cooking and entertaining skills, decided she was going to try opening a restaurant. From her perch in real estate, Burgos gleaned from other restaurateurs she knew that she needed two things: financial acumen and a vision to execute her dream. Focusing on a brunch spot in Wilmington, she found the old Post House on Market Street. "It was like inheriting a closet full of gorgeous vintage clothes and all I had to do was tailor them," she says. Since then, Breakfast at Blume has bloomed thanks to an Instagram-ready aesthetic rivaled only by dishes like Fruity Pebbles French toast and salmon Benedict. Her biggest business lesson, she says, is to respect the process. "I think people sugarcoat stories, and social media doesn't help—all we see are people arrive instead of how long it took them to get there," she points out. "I show up every day at 110%."
Leigh Ann Tona
Owner, Sleeping Bird Coffee

Thanks to an entrepreneurship class project while at the University of Delaware, Leigh Ann Tona unknowingly took the first step of her food service journey. "I did a food truck because I thought it was easy—which it was not," she recalls. She used the hypothetical business plan to launch her food truck, I Don't Give a Fork, which she ran for eight years. During that time, she met her husband Zach DeLong and together they sold coffee and pastries from the parking lot of what is now Sleeping Bird Coffee in Wilmington. "I didn't go to culinary school [or] pastry school. I just was a home cook for a really long time," Tona says. Even so, all of the sauces, cream cheeses and baked goods are made from scratch in-house. Besides getting to be creative in the kitchen, the best part of the business is the community, she says. "I recognize almost everybody who [comes] in here. Motivation is the customer."

Christina Fabris
Owner, CLA Construction Inc.

Christina Fabris' bucket list is ambitious by anyone's standards. Beyond her dreams of being a pilot, singer, professor and chef, she's always wanted to be a carpenter. "It's kind of innately part of being an animal—you need shelter of some sort. So, there's that primitive coolness to it," she says. Fabris credits her Italian immigrant father for exposing her to the world of carpentry, furniture, design, maintenance and construction. In 2001, she broke into the male-dominated industry with CLA Construction Inc. "When I first started, no one took me seriously," she recalls. "So, I put the company in my father's name. I told people he was the boss even though it was me." Two decades later, Fabris is thriving on her own. The multilingual boss—she speaks French, Italian, Spanish and Mandarin—stays busy off the job site, too, juggling motherhood with beekeeping, boating and other hobbies. "I like problem-solving, fast-paced work and visible accomplishments," she says. "Being a part of transformation gives tremendous satisfaction."
A lot of people see us when they're going through something. …Then, all of a sudden, they look like the person they feel like. Watching that transformation is powerful.
Brandi Gregge
Founder, Mint & Needle

When Brandi Gregge, M.S.N., F.N.P.-B.C., was naming her aesthetics boutique in Middletown, she wanted it to evoke an emotional response. While "needle" was an obvious nod to her métier, she landed on "mint" for its cool, calming impression. "[It's] how I want my client to feel," Gregge says. "We're about restoration, not really changing who you are, just that kind of refreshed feel." The Los Angeles transplant says the best part of her job is more than skin-deep. "A lot of people see us when they're going through something—whether it's a divorce or they're feeling down. Then, all of a sudden, they look like the person they feel like. Watching that transformation is powerful." Gregge is also launching a nonprofit called Empowerment Beyond Scars, which will provide services to women who have had physical manifestations of domestic violence. "I want to leave a legacy behind," she says. "I want to create positive change."

Stephanie Johnnie
Executive Director, Pete du Pont Freedom Foundation

For the past three years, Stephanie Johnnie has helped mind the American Dream as the executive director of the Pete du Pont Freedom Foundation, a nonprofit that provides resources, ideas and support to entrepreneurs. "This is an organization whose namesake was a political figure, somebody who was extremely patriotic, beloved and who believed in this country," Johnnie says. "That's the legacy we work to carry out—that here, anybody can achieve their dream. We also recognize that access to those dreams isn't the same for everyone, so we help fill those gaps." Working with entrepreneurs across various industries, from biosciences to hospitality, she says she's amazed by the innovation she sees. "It's really cool to see that human creativity, and people share what their dreams and passions are…and then you get to help to make it grow. It's so inspiring."
Nelia Dolan
VP, Southern Delaware Brewing Company

After playing an integral role in SoDel Concepts restaurant group's ability to stay afloat during the COVID-19 pandemic, Nelia Dolan set her eyes on her next challenge: growing and overseeing all aspects of one of SoDel's newest expanses, which also includes Thompson Island Brewing and Ocean View Brewing companies. For eight years, Dolan, a mother of four, served as the VP of SoDel Cares, the charitable arm of SoDel Concepts, which has donated nearly $1 million to local charities since its inception in 2017. Always willing to lend a hand, Dolan has volunteered at her children's schools and coached youth sports for many years. "Businesses are nowhere without the communities that surround and support them, so giving back is a responsibility, and one that we take very seriously at SoDel," she says. "It is also the best way to connect with and have a deeper understanding of the communities where we do business."

I'm a very curious person, and I'm drawn to learning new things.
Helen Raleigh
Co-Owner, Story Hill Farm

There is an interesting story behind Story Hill Farm, and it starts with Helen Raleigh, a Wilmington native with a thirst for knowledge and new experiences. She spent summers exploring tidal pools in Cape Henlopen State Park but wound up with a degree in intermedia studies at Arizona State University. Raleigh has been an adjunct professor, commercial photographer and graphic designer. She's worked for Apple and an art gallery. "None of that prepared me for what would happen when I learned about the plight of the pollinators," she says. TToday, Raleigh, her husband, Steve, and Derek Kuebeck own a Frankford farm full of butterfly- and bee-pleasing wildflower meadows. The couple raise heritage breed cattle that help turn pastures into meadows. "We got cows to save butterflies," explains Raleigh, who rotates the herd's grazing areas. Story Hill Farm also has a market, and the couple designs custom structures, such as coops, and helps others create pollinator-happy landscapes. She isn't short on ideas. "I'm a very curious person, and I'm drawn to learning new things," she says.
Lili Oller
Owner, Water Lili

Lili Oller is a curator of coastal chic style, the creator of Water Lili boutiques in Bethany Beach and Ocean View. Her expertise is often spotlighted in Delmarva Life on WBOC TV, styling women of all ages and body types in Water Lili's edgy and unexpected vibe. "I love fashion. I love selling. And I buy with my clients in mind," she says. Oller started out making headbands inspired by her native Panama, where little girls are raised to dress up. She wasn't cut out for a 9-to-5 job. "When I am put in a cage, I'm like a tiger in a box. I knew even when I was little that it would be hard for me to work for somebody else," she says. She internalized the value of perseverance after an early enterprise was upended by a financially devasting divorce. "I lost my house, everything," she says. Oller started Water Lili when she connected with a sympathetic landlord whose granddaughter enjoyed shopping in her previous store. "He handed me the keys—and I made it a success," she says. "It is my passion, 24/7."

Marissa King
Co-Owner, easySpeak Spirits; Fondue; Studio You Salon & Day Spa

Many people are shocked to learn that Marissa King is the co-owner of not one but three Milford businesses—and she is still in her 20s. King is accustomed to the surprise. "I've been doing this for a while now," says King, whose partner is her husband, Zack. Although guests, vendors and employees now accept her, she says that being a young woman in the hospitality industry can be challenging. Owning an eatery—or two—was not at the top of goals when she was a 14-year-old ice cream shop employee. She studied nursing, dreaming of becoming a pediatrician, but always worked part-time in restaurants. Then she fell in love with Zack, a restaurateur whose ambition matched hers. Her primary motivation isn't recognition or money. She wants to build a good life for her family, including her daughter Marlee. She tells her peers to start with a dream. "Wake up every day with that goal in mind and stick to it," she says. "It's so easy to get discouraged, but eventually, you will get where you want to be."
I love that it's equal parts creative and business—it stimulates both parts of my brain.
Erika Kurtz
Chief Operating Officer and Designer, New Moon Rugs

As a daughter of artist J.D. Kurtz, Erika Kurtz was always surrounded by beautiful art, antiques and textiles. She remembers her father selling antique rugs out of their house on Pennsylvania Avenue in Wilmington before he opened up shop on Lincoln Street. Today, his eponymous home store and sister company New Moon Rugs span multiple buildings on Union Street. "I thought rugs were so boring!" says Kurtz, who aspired to attend medical school. But after she lent a hand in the store the summer before college, she couldn't leave. As New Moon's COO, Kurtz has also been designing livable, luxury rugs for the past 15 years. "I love that it's equal parts creative and business—it stimulates both parts of my brain," she says. "However, I didn't inherit the mechanical artistic talent of my dad, a fabulous drawer and painter…but I have great ideas and a passion for design and find ways to work around that." Many prints are fresh interpretations of J.D.'s work; others are inspired by travels with her 7-year-old daughter to Nepal, India, Thailand and beyond. "Never rule anything out," reflects Kurtz, whose own child has taken an early liking to the family business—even designing a couple of rugs herself.

I hope we continue championing arts, culture and creativity as tools for addressing important economic, social and environmental issues.
Jessica Ball
Director, Delaware Division of the Arts

Jessica Ball oversees all aspects of the state agency charged with supporting the arts and cultivating creativity to enhance the quality of life in Delaware. A visual artist and entrepreneur, Ball believes that the arts can be a catalyst for building stronger communities in Delaware and has worked to forge partnerships that span private, government and creative sectors to broaden access to the arts and arts education. Since her appointment as director in 2021, Ball has led the agency through a period of remarkable expansion, including successfully launching and developing new programs focused on uplifting Delaware organizations and creatives through marketing, equity training and new grant opportunities. "My hope is that we will play a leadership role in growing Delaware's creative economy and in helping the state become known nationally and even globally as a creative state and a cultural destination," she says. "I hope we continue championing arts, culture and creativity as tools for addressing important economic, social and environmental issues."
Anne Collins Duch
Owner, Physical Therapy for Women

As a physical therapist (PT) working alongside mostly male colleagues in outpatient orthopedics in the 1990s, Anne Collins Duch was reluctantly limited to patients seeking treatment for pelvic health—and discovered her passion. Though it wasn't what she initially set out to do, pelvic health became the focus of her postgraduate work. As one of the country's first board-certified women's health specialists, Duch founded Physical Therapy for Women in 2008 after a nurse patient nudged her into independent practice. Working with two other PTs and the adjoining Sadhana yoga studio in Wilmington's Independence Mall, she treats patients from premenstrual to postmenopausal age for an array of ailments through manual techniques, physical exercise and other modalities. She's also built a community for pregnant and postpartum mothers. "I think for so long women have been underserved in the medical world," Duch says. "When I entered this field, there was a real lack of research and support for some of these issues. …I knew they shouldn't just have to [suffer] through these things. They should be able to keep their dignity and continue the things they want to do and take part in the world."

Kanani Hines Munford
Director of Engagement, Philanthropy Delaware

Kanani Hines Munford puts stock in being the change you want to see in the world. As the director of engagement for Philanthropy Delaware, she feels she has a stake in the game. "I'm part of that change every day," she says. "I want to do my part so that Delaware is a state where I'm proud to raise my kids, a state in which communities thrive, and not just today but for decades." Part of her role is to make the philanthropic community aware of the state's critical needs. "When our members are informed and engaged, they make the investments that meet needs, which sometimes might not be so obvious," she says. "I help empower our members." It's not just her members—for someone whose superpower is connecting people, she's involved with agencies like the Fund for Women, the largest giving circle in the state, and she's co-founder of Women of Wellness, an organization helping women and girls holistically live to their full potential. "Servant leadership is how I live my life—professionally and personally," she says.

Katie Mitchell
Owner, Claws and Paws Pet Sitting

Katie Mitchell always knew she'd grow up to work with animals. "My first job was milking cows on the family farm," she says. After vet-tech school, the Dover native joined her mentor, Ruthie Franczek, D.V.M., going "from farm to farm, working on cows, horses, pigs, goats, all the large animals." A decade later, Mitchell changed focus to small animals (think dogs, cats and guinea pigs) and launched her pet-sitting business. But when the pandemic unexpectedly confined most pet owners to their homes, demand diminished overnight. That's when she and Franczek launched a mobile vaccine clinic. "Animal hospitals were getting so packed, it was hard for them to see people," Mitchell recalls. "Because we were considered essential, we went into people's homes during COVID." Today, Claws and Paws is thriving with 11 employees. Mitchell—now also medical director for the First State Animal Center and SPCA in Camden—cares so much for the animals that it brings her to tears. "The best part is helping the community," she says.
Suzanne E. Sebastian
Deputy Director, Energize Delaware

Suzanne Sebastian is one of those rare individuals who found her career footing on her first job. Fresh from a two-year Goldey–Beacom College program, she began working for the Delaware Energy Office. Encouraged by her supervisor, Sebastian went to night school to earn a four-year business degree and steadily worked her way up the office's ladder. Although she held several positions, she particularly enjoyed energy audits that produced savings for schools and other organizations. "You don't have to sacrifice comfort to be efficient," she says. Indeed, as deputy director of Energize Delaware, she first promotes efficiency and then renewable energy. "If your home or business invests in efficiency, you don't need as much energy—whether that is solar or other fuel sourced," she explains. "A colleague and mentor of mine always said that the cheapest energy is the energy we don't use, which has always resonated with me." The same is true of doing what you love. "Do things that make you happy," Sebastian agrees. "It's so rewarding to help people find resources that improve their lives."
One of the things that stuck out to me was although I had this amazing space…I was not generating any revenue.
Lanice Wilson
Owner, Juice Joint 2.0

Fans of the O.G. Juice Joint at Wilmington's Riverfront will rejoice at how Lanice Wilson has resurrected her beloved beverage boutique, which recently relocated to hip new digs at The Chancery Market Food Hall. The B.E. Suite, which stands for Black excellence, is the product of Wilson taking stock of what worked—and what didn't—at her former location. "One of the things that stuck out to me was although I had this amazing space, the Juice Joint closed at 4 p.m.—from 4 until 7 in the morning, nothing happened," she says. "I was not generating any revenue." So she came up with the new suite concept as a way to collaborate with like-minded brands and generate revenue after hours. As part of the B.E. Suite, Wilson will host yoga instructors, a self-defense instructor and a gun-safety expert, among others, as part of the brand collaboration. "Aligning myself with like-minded Black businesses," is what Wilson says she looks forward to most. The juices, which pack between 2 and 3.2 pounds of healthy produce per glass, remain the same.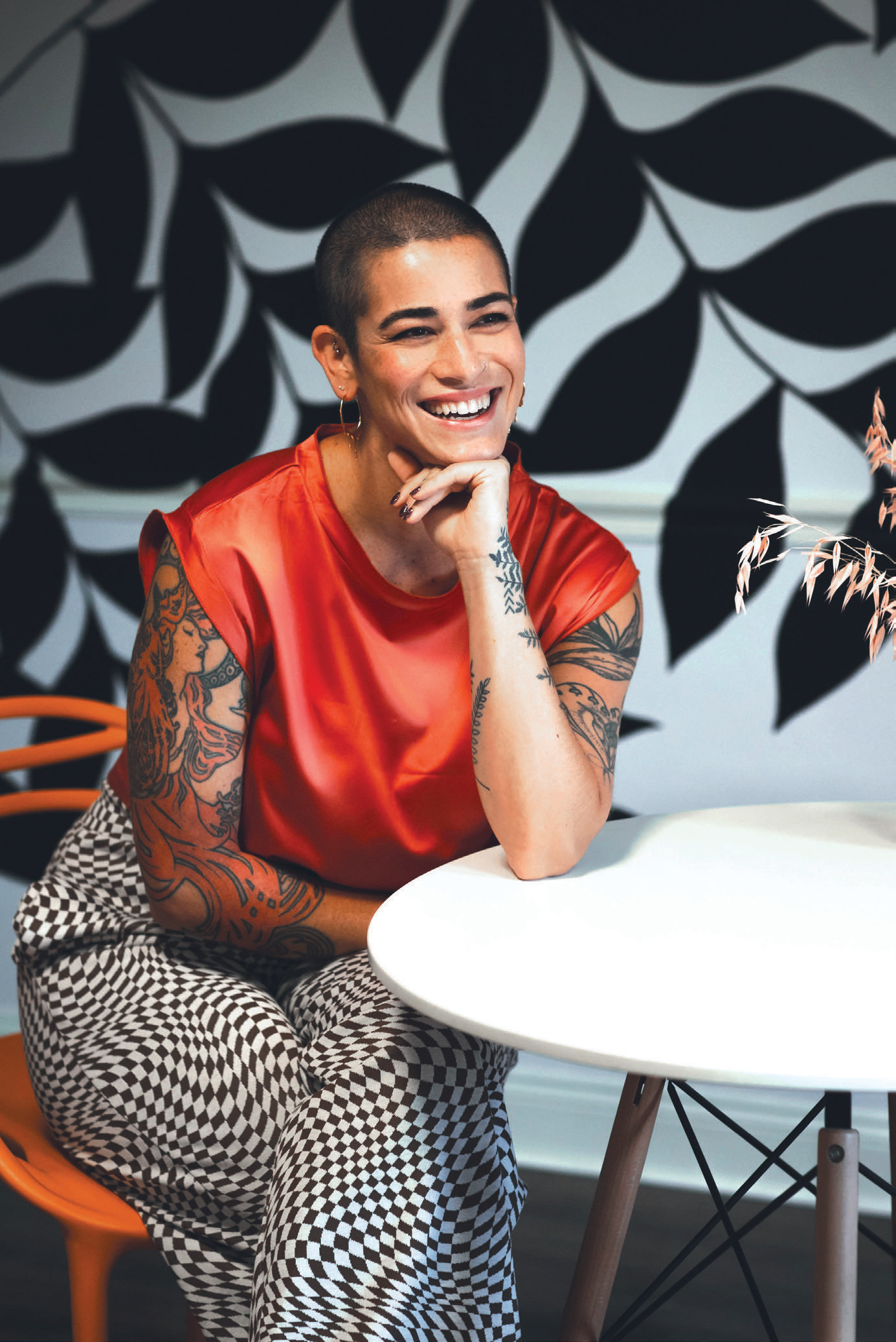 I've got two kids watching me follow my dream—that's the best part.
Larkin Resler
Owner, Black Fern

For tattooist Larkin Resler, the pandemic was great for business. "It was like everyone came out of hibernation and [said], 'Wow, we could have died. YOLO—let's get a tattoo,'" says the owner of Black Fern in Wilmington. Resler was booked in late 2021 working on a mural for The Peach Blossom Eatery opening in Newark. "I loved the bad-bitch vibe of the owners," she says. "I watched them roll up their sleeves, pick up hammers and make their dream restaurant. I thought, I can do that." A seed was planted—and up rose Black Fern in Wilmington's Independence Mall. Battling imposter syndrome at first, she realized she need to get out of her own way. Now she's living her wildest dreams. "I have the biggest smile on my face when I unlock these doors," she says. "I skip in here Monday mornings. And I've got two kids watching me follow my dream—that's the best part."
Talon Holleman, R.N.
Owner and Director, R.O.O.T.S Youth + Development Program; Grounded ROOTS Yoga

On Talon Holleman's 3-acre Georgetown homestead, a burgeoning after-school program provides children and their families with lifelong learning. The R.O.O.T.S. (Reaching Outside of Traditional Schooling) Youth + Development Program was established by Holleman—a part-time R.N., yogini and home-schooler—a couple of years ago to "bridge a gap in the public school system by bringing practical life skills, social-emotional learning and community building to her community," she says. With over 500 children ages 18 months to 12 years, the programs offer workshops based on five core pillars: regenerative farming, animal husbandry, bushcraft, nature studies and homesteading. (They also host summer camps, field trips and social/emotional learning classes.) "We believe there is a monumental need to heal the disconnection between people and the earth that provides for us," Holleman says. "We are inspired to help raise up a generation of children who are deeply connected to the world around them and have the knowledge as well as the practical life skills to live self-sufficiently. Introducing children to these skills at a young age will establish an amazing foundation for their futures."

Anita Wheeler-Bezy
President and Co-Owner, La Baguette French Bakery

It was kismet for Anita Wheeler-Bezy to one day own a café. "My grandmother owned a bakery in France. The smell of baguettes reminds me of [it]," she says. "This is in my blood." Seven years ago, she opened La Baguette French Bakery in Dover with her husband Ludovic, the restaurant's head chef. The couple takes pride in their authentic French goods, making and baking everything on-site. Before the bakery, Wheeler-Bezy earned an associate degree in hospitality management, volunteered for the Civil Air Patrol (a U.S. Air Force auxiliary), and worked as a certified ophthalmic technician and scribe for 21 years. "I was scared to do it, but I'm glad I did," she says of her career transition. At the bakery, she runs the front of the house and handles everything from payroll to employee management to equipment repairs. With a new second location in Lewes and their busy Gourmandise food truck, she shows no signs of slowing down.
Patricia Wendel, D.C.
Founder, MOT Family Chiropractic

As a chiropractor, Patricia Wendel, Ph.D., has her patients' backs. With offices in Wilmington and Middletown, she's been practicing for 33 years through various stages of life for herself and her patients. She's worked with pregnant moms and their newborns, professional and student athletes, people whose lives have been impacted by accidents, and everyone in between. "Recently, I've been treating seniors who want to keep mobile and active," she says. When she graduated first in her class at Life Chiropractic College, she was one of a handful of women. Despite advances in technology over the years, Wendel's most important tools are her skilled hands. Her youngest patient was a newborn with a cervical misalignment who was having a problem latching onto her mother's breast. Her oldest patient is 99. "The most rewarding aspect of my profession is to be able to provide drug- and surgery-free solutions to people with back pain, joint pain, breech pregnancies and chronic health conditions that traditional allopathic medicine hasn't been able to help," she says.

Nicole Pickles
Executive Director, Cancer Support Community Delaware

As executive director of CSCDE, a statewide nonprofit organization that provides support services at no cost to people with cancer and their loved ones, Nicole Pickles pulls from experience. She knows firsthand how important support is to people with cancer. "When my boys were 3 and 7, I was diagnosed with uterine cancer," she says. "I came to CSCDE out of gratitude for my health." Her background in development at the Joffrey Ballet of Chicago and the American Cancer Society is enhanced by her work as a partner at Topkis Financial Advisors. Since taking the reins at CSCDE in 2014, she's used those skills to forge partnerships and get CSCDE on firm financial footing. Those initiatives include a health coaching partnership with the University of Delaware. The Incyte Cancer Care Assistance Fund has committed $1 million to CSCDE over the next five years. "We have no debt, no mortgages, no rents," Pickles says. Services include stress reduction programs, support groups for patients, caregiver groups, yoga, tai chi and financial assistance. Expect more to come. CSCDE is growing, hiring a program manager and holding a fundraiser in Sussex County.

Courtney Thornton
Marketing Director, Harp and Hare

Creating luxury picnics and romantic room settings is Courtney Thornton's specialty. Before she founded the business with three partners (sister Crystin Liboma and cousins Lindsey Thompson and Brittanie Blackwell), she was a middle school social studies teacher. "I bet on myself—and it's worked out," she says. "When you can imagine something, you can do it. Don't let anyone talk you out if it." Harp and Hare partners with Hotel du Pont, Penns Woods Winery and other upscale venues to provide memorable settings for proposals, birthdays, reunions, anniversaries and other special occasions. "Some special occasions. "Some people have luxury picnics in their backyards, their living rooms." During a trip to Zambia, Thornton learned that life is not a picnic for girls in villages who are forced to drop out of school because they don't have period products. Thornton and her partners founded the Cycle of Change Project to provide girls with tampons, pads and period cups. "Luxury looks different for different people," she says. "Luxury in Zambia is period products."

Melinda Tingle
Financial Advisor, Edward Jones Investments

Melinda Tingle started her practice as a financial advisor in 1999 after a 20-year career in the banking industry. She was searching for a career opportunity that optimized her banking experience and accounting background while allowing the flexibility to serve and better support her local community through volunteerism. Edward Jones seemed the perfect place to begin building a financial advisory practice because of the firm's focus on developing personal relationships with clients and their families. She wanted to educate the local community on the necessity to save, invest and prepare for the future. The flexibility offered by Edward Jones was key to building a practice that supported her clients and desire to volunteer at local service and nonprofit organizations. She was also able to share those experiences with her family and her staff. Her capacity to volunteer is an integral part of living in Sussex County. Tingle was awarded the Business Person of the Year by the Laurel Chamber of Commerce in 2009 and recognized as Community Leader of the Year for 2022 by the Western Sussex Chamber of Commerce.

Deanna Bledsoe
Founder, Kai Coders

What started as a fun way to help Deanna Bledsoe's then third grade daughter's Girl Scout troop earn science, technology, engineering and math (STEM) badges evolved into a business called Kai Coders. This engaging, in-person educational service collaborates with schools and community partners to provide immersive coding and computer science lessons for students in K through 6. Bledsoe, the former IT director for Delaware's Treasury Department, combines technical instruction with creative problem-solving, fostering a love for learning with the students she reaches and giving them an even deeper understanding of our world's digital landscape. One example of Kai Coders' hands-on approach is when fifth graders at North Star Elementary in Hockessin took on a community service project for the Food Bank of Delaware's CANengineering competition. They ran a food drive and then, using programming and circuitry, designed, engineered and built an interactive structure with the donated food. "Very few industries are untouched by technology," Bledsoe says. "STEM, particularly tech, introduces kids to modern literacy skills and prepares them for success in our digital world by changing how they interact with technology. We must advance them beyond simply being tech users to being tech creators."

Carolmarie Brown
VP of Corporate Affairs, Ashland

As the VP of Corporate Affairs, Global Marketing, Brand and Business Communications at Ashland, a global additives and specialty ingredients company, Carolmarie Brown led the evolution of the corporate brand strategy, positioning and creative identity, post-IPO, of Valvoline. Her work helped win a Rebrand 100 Award of Distinction and an Ashland Chairman's Award. Brown is also the architect of the company's Responsible Solvers philanthropic program, where company sites across the globe focus on raising awareness for the importance of science, technology, engineering and math (STEM), supporting programs that address specific communities' most pressing local issues. "Ashland is always solving, and issues like environmental stewardship and equity in STEM are not just defining issues for our generation but for humanity," she says. "We have a role to play in the communities in which we operate."

Lisa Donlon
President, VanDemark & Lynch

With an 86-year-history, VanDemark & Lynch is one of Delaware's oldest civil engineering and surveying firms, and Lisa Donlon is its first female partner. She formerly served as the lead civil engineer on local land development projects, including the Nemours Children's Hospital, the Christiana Fashion Center and the recent Country House expansion, executing innovative design, resource management and quality service. Dedicated to introducing engineering and construction to young people, Donlon mentors young engineers and designers and also contributes to the ACE Mentoring of Delaware program, which connects Delaware vo-tech students with professionals to provide real-world experiences and potential career paths. "About 10 years ago, I read a statistic that for every six people leaving the architectural-construction-engineering field, only one is entering the field. … That made me think, who will be the future of this field?'" Donlon recalls. "Most young people don't know what a civil engineer or a construction manager does, or the range of options within each career. We expect young people to make career decisions that could direct the rest of their lives without giving them all the options. Hopefully, if more young people are introduced to engineering and construction career options, they will choose this field."
Christine Collins Blithe
Sales Manager, ARS Fleet Service

Christine Collins Blithe proudly represents Patrick Connell as sales manager of ARS Fleet Service, the largest mobile fleet maintenance and collision facility in the Tri-State area. Described by co-workers as charismatic, hardworking, honest, kind and with a talent for connecting with people, Blithe has driven rapid growth for the company. This achievement has allowed ARS to expand its market throughout the Northeast. She's helped triple their client base and grow the team from 23 to 100 employees—trailblazing in the industry and showing business owners there is a better way to manage their fleet. Meeting every day with an open heart, grateful attitude and dedication to excellence while putting God at the center has always been key to her success, she says.
Monica Dudley
Owner, Bella's YOUnique Bridal Boutique

Some say the top rule of success is not to mix personal and business. Not in Monica Dudley's world. "I want people to come to my shop and think, Oh, this is Auntie's house! This is just Auntie Monica, and we're going to look at some dresses and have a wonderful afternoon," says Dudley, the woman behind Bella's since 2016. She opened the boutique—which offers past-season dresses at a more affordable price—after her daughter-in-law invited her to wedding dress shop. "I thought I'd ruin the day with my facial expressions," Dudley says with a laugh. Which got her thinking—why not create a space that feels homey enough that no reaction is out of turn? She wants people to feel the same walking into her shop as they would at her home. "That's the only way I know how to do business," she says. Sourced from designers like Maggie Sottero, Madison James and many more, Dudley's inventory boasts some 300 beautiful budget-savvy gowns.
Troy Farmer
Director, The Garage, Delaware Center for Enterprise Development, Delaware State University

Working in organizational development for Fortune 500 companies, universities and school districts, Troy Farmer provided support by nurturing culture, fostering leadership, and helping clients sort out issues and challenges. But then something occurred to her: What happens to small businesses when they're just a hot mess? Who is there for them? she wondered. She started observing the small business landscape to determine where foundational strategies were needed, eventually launching Friday Fuel Up, a workshop where small business owners could discuss techniques, strategies and tools. The demand for her help was high. More than a decade later, she runs The Garage at DSU, an entrepreneurship ecosystem and ideation incubator for students and beyond. "What inspires me is the opportunity to take the journey with someone," Farmer says. "They have trusted the program that I'm running and are able to immerse themselves into the abyss of developing creatively. What's better to say than you had a part of that?" Next, she wants to build a regional innovation hub for women and minorities, she says. "I want to walk the journey from point of inception to you get funded."

Jeannie Biamby
Owner, Biamby Sweet Treats

Sometimes the problem is part of the solution. "When the pandemic [began] in 2020, my cleaning company took a six-figure hit due to the ban on short-term rentals," Jeannie Biamby says. "So, my love for baking turned into a business to supplement my family's income." Now, it's become her full-time gig. (And she still owns Biamby Cleaning Services as a part-time operation.) Despite having no formal training, the self-taught baker makes everything from scratch. She counts her lemon dream cake and strawberry shortcake cheesecake among bakery favorites, but her chocolate peanut butter cake—the very first homemade cake she ever sold—is closest to her heart. Biamby currently works from home, taking orders online to whip up her sweet confections. She dreams of one day having a storefront or truck. "I care about every single order," she says of setting the bar high. "If it is not good enough for my family, then it's not good enough for my customers. I strive to be the best."
Nicole Draper
Co-Owner and President, The Voiceover Couple

It only takes a few moments of conversation with Nicole Draper to realize she's precisely where she should be. Draper, whose acrobatic and animated voice makes up half of The Voiceover Couple, the company she owns with fellow voice actor and husband Dom, was a musical theater fanatic who dreamed of being an anchorwoman. One problem: "I hated my voice," she says. She didn't realize it was pure magic until she started getting jobs on Fiverr, an online platform for freelancers. "People started hiring me for voice-acting gigs and I thought, Wow, so this is what I can do with all of that theater energy," she says. Since then, she's earned clients like Google and Uber, working out of her in-home recording studio. "I spend a lot of time reflecting on the fact that our tagline is, 'Diverse voices for a diverse world,'" Draper says. "I never heard Black voices on commercials growing up." Her best advice to other Black women looking for a seat at the table? "Build your own damn table and chairs," she says.
Madula Kalesis
Owner, Westside Restaurant

Growing up in Greece, Madula Kalesis wanted to be a nurse, and although she didn't enter the medical field, she now makes people feel better. Westside Restaurant, the Milford business she started 25 years ago, serves comforting all-American breakfasts, classic lunch sandwiches and traditional entrées—all with a family-friendly smile. Kalesis came to the United States after high school because an uncle lived here. Since he was in the hospitality industry, she and her ex-husband decided to follow in his footsteps. It was challenging at first, she acknowledges. "Women were not expected to be bosses or good at managing a business," she notes. "It seems that we are much more resilient than people think." Over the years, she's contributed to Milford–area teams, schools and fundraisers. In turn, residents have supported her, says Kalesis, who recently joined a city-sponsored adult kickball team. The same approach should apply to women in business: Help each other. "Be patient, be resilient and be the strong individual you were meant to be," she says.

Terri Sorantino
Founder, Liquid Alchemy Beverages

In 2012, Terri Sorantino and Dr. Jeffrey Cheskin, a chiropractor, were vacationing in Maine when they noticed an unusual café special: lavender lemonade mead. Intrigued, they visited the nearby Maine Mead Works and started a three-hour conversation about the alcoholic beverage made with fermented honey. Back in Delaware, they began experimenting. "We made some pretty terrible stuff," Sorantino acknowledges. But the more they learned, the better the mead—to the point that the Delaware native sold her house and bought a commercial building. Liquid Alchemy, which also makes hard cider, was born in 2016. When Sorantino began attending mead conferences, most participants were men with Viking tattoos. Increasingly, she's meeting more female attendees. "The opportunities are out there," she says. But take care of yourself—and she doesn't mean bubble baths and massages. The former tax accounting maven recommends keeping a close eye on your finances.

Kim Gomes
Partner, ByrdGomes LLC

For Kim Gomes, helping craft public policy for the state where she lives and works makes her job fun. Earning a bachelor's in fitness management and working as a fitness coordinator for the University of Delaware (she's a former gymnast and competitive ballroom dancer) in between jobs at a brokerage firm and insurance company, Gomes was later inspired to pursue a master's in public administration. As she approached graduation, lobbying piqued Gomes' interest after a networking connection with Bob Byrd ignited a career pivot. At the women-owned ByrdGomes (Bob's daughter Becky succeeded him), Gomes is advancing progress in healthcare policy, early childhood education and universal recycling, among other legislation. As female representation continues to improve in lobbying, Gomes says it's imperative for those interested in the field to have a strong understanding of the legislative process. But most importantly, trust your gut. "As women, we tend to second-guess ourselves, and we've got to stop doing that," she says. "Go with your gut. The female gut is very rarely wrong, right?" Gomes also serves her community by sitting on the board for Kids Count DE; she was also previously on the board for Big Brothers Big Sisters of Delaware.

Deirdre Hake
Chief Operations and Strategy Officer, ChristianaCare Gene Editing Institute

With a background in nonprofit leadership, Deirdre Hake has always been motivated to serve others. Since 2020, she has filled multiple roles at ChristianaCare. As chief operations and strategy officer for its Gene Editing Institute (GEI), she is responsible for all administrative, financial and operational activities. A member of GEI's executive leadership, she also leads the development and implementation of corporate strategy, including cultivation of collaborative partnerships and funders to advance the mission of finding therapies for various diseases. Additionally, she oversees all external affairs activities and is responsible for growing Gene Editing 360—an educational program that aims to provide a suite of highly flexible, hands-on educational tools designed to launch high school and college students on a journey of learning and discovery about the fundamentals of CRISPR gene editing technology. Hake says she is proud to see students walk away with a better understanding of STEM and gene editing. "I just feel this deep sense of responsibility to contribute and pay it forward—and pay it back," she says.

Alessandra Mauser
CEO and Co-Owner, Ocean View Jewelers

When her father opened Ocean View Jewelers in 2017, Alessandra Mauser was a stay-at-home mom. At first, she might help out a couple days a week, but as business grew, it became too much for one person to handle. She became its chief financial officer and then part owner. "I was kind of born into it. …So, it came natural to me," she says. While her focus is still on managing the business financials, Mauser maintains that she wears multiple hats. Above all, the mission is to provide trustworthy jewelry services to the community—and she's committed to carrying the family legacy forward. The mother of two, who is currently working toward her Applied Jewelry Professional (AJP) diploma through the Gemological Institute of America, says it's a balancing act. "Having boundaries and knowing when to switch things off" is key. Mauser's personal mantra: "Be where you are and give 100%."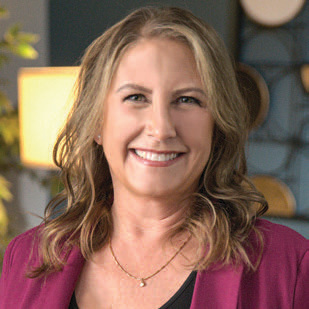 Jennifer Brooks
Co-Founder and President, GOLO LLC

For Jennifer Brooks, the mission is clear: Help people live a happier, healthier life. As president of direct-to-consumer wellness company GOLO, she gets to do it every day. Through the GOLO for Life Plan, customers receive a box by mail, which includes the company's signature supplement, Release, and a plan that teaches consumers to create healthy meals. "It's really a well-rounded program. It's not just a pill. It's not just a plan," she says of the platform's comprehensive approach. Brooks credits her education in holistic nutrition for fostering a strong belief in mind-body connection. "You can't address one without the other," she says. "You can exercise, but if you don't eat right, you're not going to get to your goals." The mother of three insists it's not just about the numbers on the scale. "We're really [focused] on life improvements and nonscale victories, which could be, 'I was able to run with the kids today,' or 'I feel better.' Those are really our best measure of success."

Taylor O'Bryan
Founder and Postpartum Doula, The Ginger Goose LLC

When Taylor O'Bryan gave birth to her daughter in 2022, The Ginger Goose was simultaneously born. "Her nickname is 'Goose,' and she came out with the brightest red hair in the world," O'Bryan recalls. Feeling disheartened by the corporate world, she learned through a midwife friend about a special kind of doula that takes care of parents of babies after delivery. And the name of the company, she says, was a shoo-in. "It was the absolute most magical, perfect fit because it brings me back to those early days with [my daughter]," she says. O'Bryan, who comes from a long line of entrepreneurs (her family ran Lyons Pharmacy in Elkton for 53 years), aims to empower families during the delicate first days of parenthood. "If I could just preach from the mountaintops, it would be that being a mom doesn't need to be impossible," she says. "I just want women to know they deserve rest. They deserve care. They deserve empowerment. And that's what I'm here to help provide."
Related: A New Charter School Honors a Local Leader in Sussex County