Rock Climbing
Test your mettle by scaling 90 feet of metamorphic gneiss rock at Alapocas Run State Park—the site of the historic Brandywine Blue Granite Quarry and your next adventure.
The park offers an introduction to outdoor rock climbing classes in the spring and fall to give new climbers a taste of "top-rope" climbing, considered one of the safest methods since the climber is anchored to a belayer that's secured at the peak.
"We get individuals who have never climbed before, and then we have people who've climbed indoors or [who] are starting their adventure to try to start climbing outside, so they want to know what to expect," says Liz Androskaut, an interpretive programs manager with Delaware State Parks.
The Alapocas Run course offers plenty of options for starters, who will find 12 bolted routes to attempt. "Within those, there are multiple pathways depending on what challenges you want," Androskaut explains. All you need to get started are comfortable clothes, close-toed shoes and a signed permit from the park system.
For many, the truly challenging part is not the climb but rather coming back down—leaning back into the harness and letting go of the wall, which can be a scary feeling, Androskaut says.
But a solid climb (no matter how high the first time) is a boundary-pushing experience. The first time Androskaut attempted the wall, she only made it up a few feet. "So that relaxes people a little bit, knowing that I had to push my boundaries, and I coach and help them achieve whatever goals that they want to achieve."
Zip-Lining
Good luck finding local aerial thrills that match those found at Go Ape!—the zip-lining and treetops ropes course at Lums Pond that takes guests up to 50 feet in the air among the sweet gum and tulip poplar trees.
Challenge your fortitude with harnessed obstacle courses, then let it rip with zip-line maneuvers right over the pond. Some take on the course to get over a fear or heights, others for a sense of adventure.
"They're excited to do something else, something physical, something exciting and outdoors," says Bryce Fencer, a Go Ape! site manager. "And I think that's the main things that we hear is just people love the setting of it, and they just love being a part of the activity. It's just adventurous for a lot of people."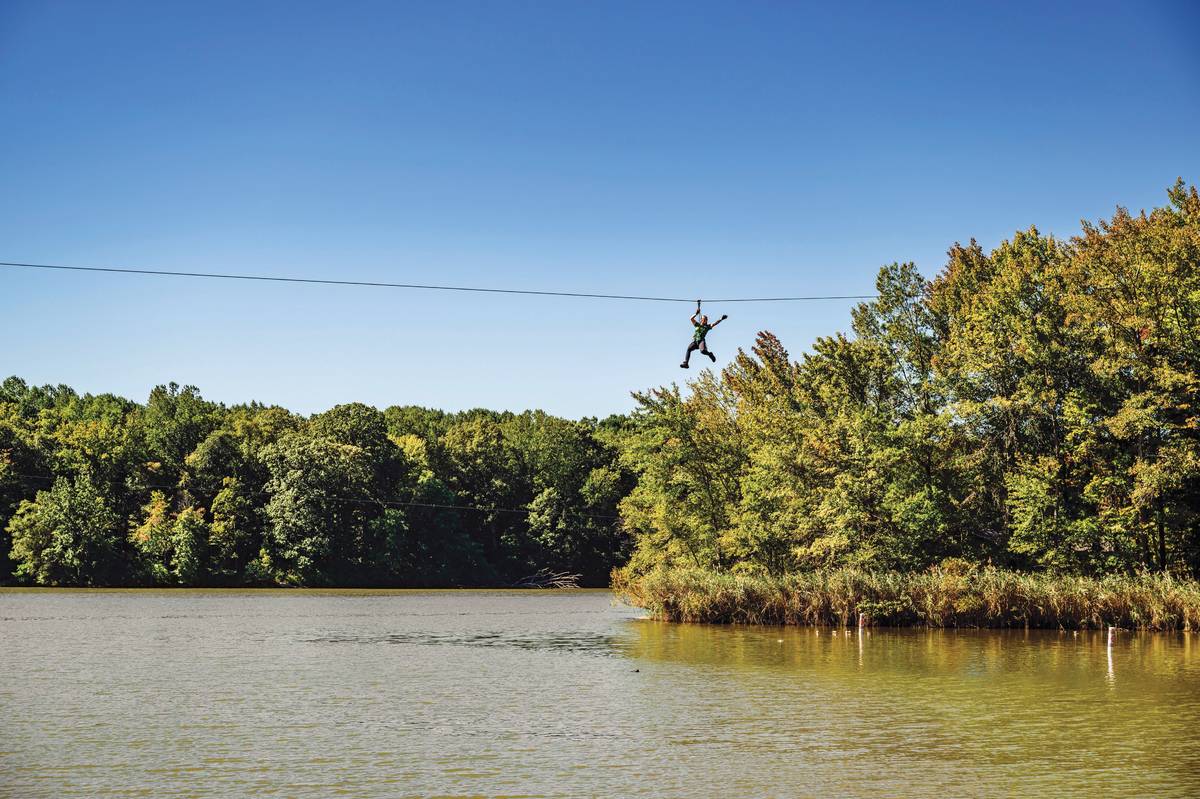 Luckily, the adventure can take several different routes. For Tarzans in training, consider the age-restricted Adventure course, with its 40 unique ropes course obstacles that will have you grunting in and around branches and platforms at 50 feet off the ground.
For kids and those wanting to remain a bit closer to terra firma, Go Ape! offers the Journey course, just 20 feet high but still packing a punch with fun obstacles and zip-lines (the longest clocks in at 120 feet).
"The Journey course has always been very popular for adults who are kind of nervous of those really big heights, not ready quite to tackle that yet," Fencer says. "That's a good stepping-stone or a foot in the water. And then also for kids who are super active, ready to burn some energy, and the parents want to relax and watch them have fun and be the paparazzi and take photos."
Outdoor Yoga
As the weather warms, consider making a sun salutation a part of your outdoor routine.
"I think it's so good for the soul. I think mentally, physically, emotionally, spiritually, there's just so many uplifting benefits that you get by rolling your mat out outside and practicing yoga close to the earth and listening to the ocean right in front of you," says Kat Wyman, co-founder of the Rehoboth Beach-based Soulfire Collective.
Usually sometime in May, weather permitting, Wyman and crew begin offering outdoor classes on Chesapeake Street in Dewey Beach. And on Sundays, they storm the deck at Rehoboth's Aqua Grill.
"And then four times a summer, which is super fun, we do big outdoor events at the Big Chill Beach Club right on the Indian River Inlet," she says. "It's really beyond the yoga, it's more just an experience and an opportunity to come out and be around a couple hundred of just really amazing community members, having a good time and listening to good music, watching a sunset, doing some yoga."
With DJs, hundreds of yogis and even an open bar afterward, "It's more than just the yoga, it's a beautiful outdoors social event," Wyman says. It may sound slightly intense, but Wyman says Soulfire adheres to a strict "you do you" policy of inclusion and acceptance. "And what that means is it doesn't matter to us your skill level, it doesn't matter to us how long you've practiced, it doesn't matter your size or your shape or your gender or your age or any of those things. We have a space for you, and you can come and do as much or as little as you want, and no one is ever going to look at you or say anything to you about what you're doing."
Outdoor Concerts
"The beautiful thing about music… when you hear a song, it can transport you to where you were. At the same time, we have the power to introduce people to different genres and artists that they haven't seen before."
So says Patti Grimes, executive director of the Freeman Arts Pavilion in Selbyville, which has been opening ears, hearts and minds as perhaps the state's preeminent outdoor music venue since 2008.
In a post-COVID-19 world, live outdoor music feels like balm, especially in a setting as beautiful as this one. Freeman started small, welcoming 13,000 guests in its first year, ballooning to 115,000 in 2022, welcoming along the way national touring acts including Smokey Robinson, Diana Ross, Chicago, Huey Lewis and the News, Bonnie Raitt, the B-52's, The Wailers, Vince Gill, Cole Swindell, Jay Leno and Yo-Yo Ma.
In between the headliners, the organization continues to shine countless spotlights on local artists and access programs that bring music and arts education up close and personal with the vox populi. A performance from the First State Ballet Theatre dancers, for instance, might start with a ballet lesson for young fans, followed by copious autograph and photo sessions. Artists say they love the quality stage, sound and light production, and guests love the food trucks and good vibes, Grimes says.
"It's just a great place to come together in flip-flops and T-shirts and enjoy a night under the stars," she says. "Being in a place where Mother Nature shines, it's hard to beat that outdoor environment."
Sky Gazing
Jaws drop when people get their first view of the moon or Saturn through even a modest, relatively inexpensive telescope, says Jeff Lawrence. "They're pretty blown away."
Lawrence, a ranking officer of the Delaware Astronomical Society, often facilitates a person's first-ever gaze through a high-powered telescope and onto some of the wonders of the cosmos. His DAS crew—a nonprofit with around 130 members—holds regular outreach events at spots like Bellevue State Park near Wilmington or Woodside Creamery to give the public a chance to stare upon the heavens.
"Basically that is our opportunity to give the public often their first view through a telescope," Lawrence says. "I'm heavily involved in those outreach events, and really, really enjoy them. I love experiencing someone's first view."
Launched in the '50s among a handful of engineers and scientists working at the DuPont Experimental Station, today the society is a small but mighty educational force in northern Delaware, hosting workshops and regular lectures for members, outreach with local schools and more.
Once a month during the months that they are open, NAS members set up several telescopes at Woodside Farm. Events at Bellevue are scheduled for Monday, April 24, at 7:30 p.m.; and Wednesday, May 24, at 8 p.m. (Registration for Bellevue is encouraged.)
Rather than plan events around national phenomena like meteor showers, the group aims for clear skies and clearer targets. The first-quarter moon tends to be a nice time just because of when the moon rises and sets, Lawrence points out, and a partial-phase moon looks better than the full moon does.
"That being said, anytime, there's always exceptions to the rule. Generally, the ideal is if I can get a first-quarter moon and one of the major planets up, that's the home run for an outreach event," he says.
Horseback Riding
Saddle up and get your first taste of horseback riding at Foxden Farm, set on 100 acres in Dover. And prepare to get a little dirty. Proprietor Beth Steele and her team take guests through the real experience of caring for horses: "We start from ground zero, as if you own it. You learn how to groom it, tack it up, ride it—just how you'd treat one of your own," she says. "If it's summertime, you might hose it off and walk it dry. All the protocol."
With two barns of mostly retired Thoroughbreds, on-site blacksmith, and immersive experiences, Foxden has been at it since 1987. With 100 acres, they can offer an onsite trail ride as part of any riding lesson package. Steele also offers weeklong and daily day camps throughout the summer.
"And then we get plenty of adults who say, 'Am I too old to do this?' And the answer is no, as long as you can balance and have a certain fitness level," she says. "These animals weigh a thousand pounds."
The thrill of riding a horse is only strengthened by actually learning how to care for a horse too, she says. That's why lessons run the gamut from feeding, bathing, and even cleaning stalls and water buckets. "If you love animals, you've got to take care of them, too."
Related: 10 Coastal Delaware Eateries Serving Food in Historic Buildings